Edward Klein's new book All Out War: The Plot to Destroy Trump tells of a the war being waged on the democratically elected president of the United States. The book is based on an FBI report that is being published for the first time in Klein's book. Klein, an investigative reporter and best selling author tells how the Washington establishment and the radical left have joined forces in an all out war to attempt a coup d'état to overthrow the will of the people and push Trump out of office. Their goal is to return the power to the political and media elites who seemingly will stop at nothing to gain back power.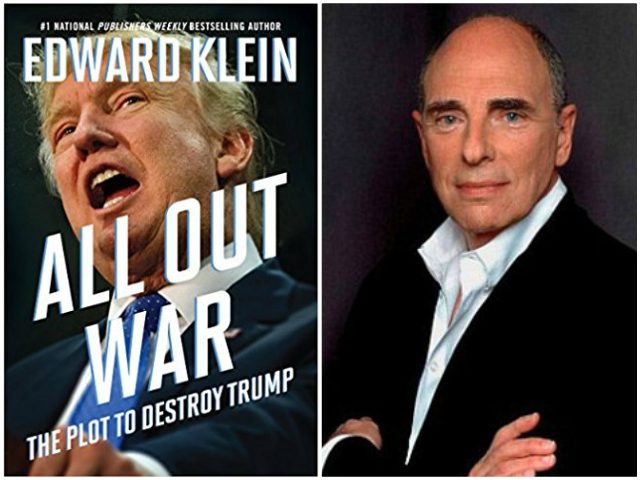 According to Klein's new book, the plot to destroy Trump began in the Obama White House. Proof of that has been seen in recent days. Evidence came to light this past week that Obama's campaign Obama For America (OFA) paid over $972,000 to Perkins Coie, records filed with the Federal Election Commission (FEC) show. Perkins Coie is the same law firm that funneled money to Fusion GPS for the famous Trump dossier. Clearly, Obama was not running for office, but was working with the Clinton campaign and the DNC to defame Trump's character. The dossier written by Christopher Steele paid by Fusion GPS makes allegations on Trump that have not ever been proven.
Klein's book also tells of deeply disturbing plots from FBI reports that tell of ties between Antifa and ISIS. According to Klein's piece in the Daily Mail,
'There is clearly overwhelming evidence that there are growing ties between U.S. radicals and the Islamic State, as well as several [ISIS] offshoots and splinter groups,' stated the FBI field report, which was delivered to Acting Director Andrew McCabe on July 11, 2017, and which is being published for the first time in my new book All Out War: The Plot to Destroy Trump.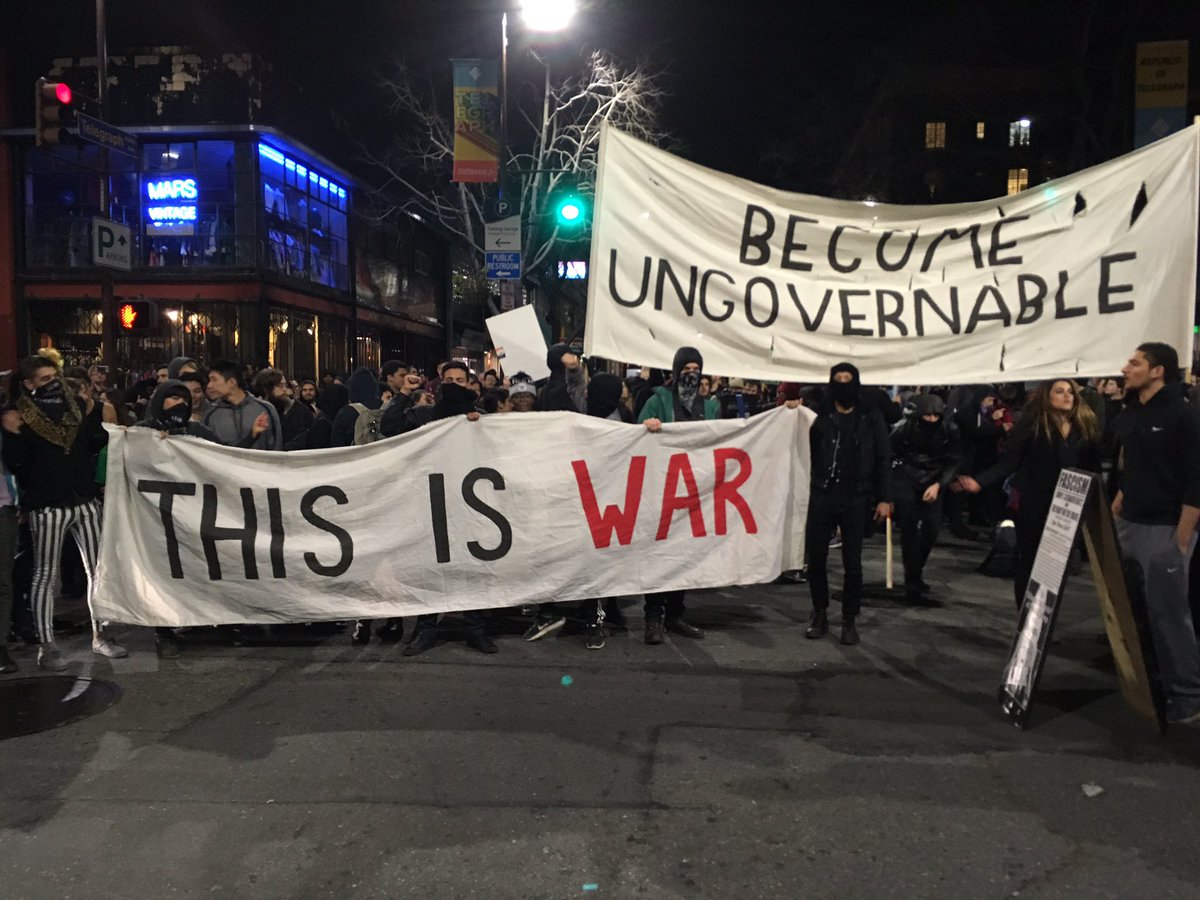 Last summer, the FBI dispatched a task force to Europe to report on massive demonstrations planned by radical groups, such as the German contingent Antifaschistische Aktion, to protest President Trump's attendance at a meeting of leaders and central bank governors of the G20 group of major industrialized countries.
'Task force covered G20 meeting in Hamburg, studied intel from local authorities, Interpol, and other assets, determined that as assumed U.S.-backed anarchist/radical groups had traveled to Germany and took place in the violence,' the FBI's summary stated.
'There is also evidence of meetings between these individuals and associates of ISIS. There is an urgent need to closely surveil the identified individuals.'
The agents sent by the FBI paid particular attention to a group of anarchists from Oakland, a major port city that lies adjacent to the campus of the University of California at Berkeley, the scene of several violent protests.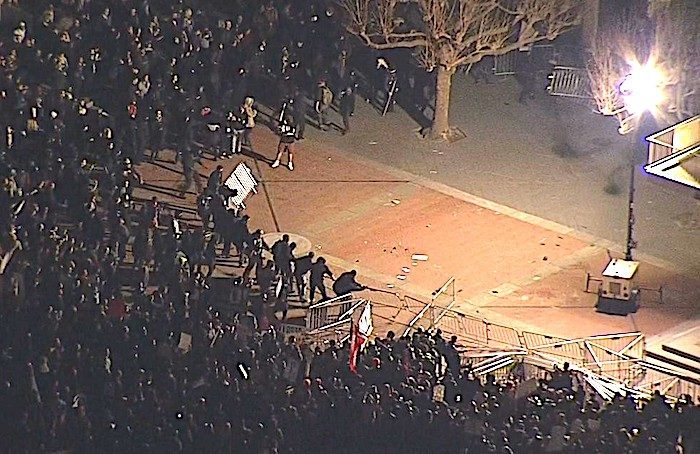 'Ties between three key leaders of the Oakland group [names redacted] met in Hamburg with a leader of the AQAP [Al Qaeda in the Arabian Peninsula] and the AQIM [Al Qaeda in the Islamic Maghreb],' the report continued. 'The leader from AQAP is an Egyptian-born male [name redacted] who is known to be in charge of finances and recruiting for the group.
'There is evidence from informants that he is helping the Oakland group acquire the weapons they are seeking, primarily bomb making equipment and toxic chemicals and gasses.
'One of the men from Oakland traveled to Syria to meet with ISIS; the purpose was for training in tactics, but was thought to be primarily a bonding visit to discuss possible massive disruptive attacks in the U.S.
Is this what went into the planning for the November 4th "rallies" by Refuse Facism and Revcom?
Klein continues;
'The Americans communicate with the Islamic State and other terrorist organizations on websites, and they use those websites to download instructions on making weapons,' said an FBI source who had access to Comey's intelligence reports.
'As the Trump administration has demonstrated it's serious about destroying the Islamic State, and depriving ISIS of territory in Iraq and Syria, the alliance between the American radicals and ISIS has grown even closer. The Internet chatter between the Americans and the Islamists is astronomical.
Whatever Antifa or ISIS plans President Trump, American military, and Police will be able to defeat these cowards.
However Klein's book tells of a possibly more sinister group that is fighting Trump from a deeper level, the Deep State. In a piece by Breitbart on Edward Klein's new book, it is reported;
After conducting 2,000 interviews, the FBI's field offices in Los Angeles, San Francisco, Detroit, and New York compiled a 1,400-word report on the Deep State last summer for then-Director James Comey. This field report is being published for the first time in Klein's book.
"The Bureau has gotten actionable intelligence that there is, within the federal government, a growing and organized movement to block or interfere with administration policy decisions," the report states.
"Legal groups have been teaching some of these government employees what they can get away with doing in terms of delaying enforcement and what they cannot in terms of refusing to obey orders, which would constitute going on strike and get them dismissed under civil service rules.
"One management level government employee said, 'Bureaucrats are going to delay, drag their feet and throw roadblocks in the way of unconscionable actions by the Trump White House. It is going to become impossible to get these actions done.'"
Anti-Trump leaks—all of them illegal and based on anonymous sources—have found their way with alarming regularity onto the front pages of the Washington Post, the New York Times, and the Los Angeles Times, and on the nightly newscasts of the major broadcast and cable networks.
This has been obvious from day one of Trump's inauguration. There are still many of his appointments yet to be filled because of Democrat delays. There has also been obvious leaks and collusion with the mainstream media to do anything possible to stop the Trump administration's agenda. The piece continues;
Senate Minority Leader Chuck Schumer virtually acknowledged the existence of the Deep State when he told MSNBC's Rachel Madow that Trump would regret his attacks on the intelligence community.
"Let me tell you, you take on the intelligence community, they have six ways from Sunday at getting back at you," said Schumer. "So even for a practical, supposedly hard-nosed businessman, [Trump's] beig really dumb to do this."
Newt Gingrich is a firm believer in the Deep State.
"Of course the Deep State exists," he said. "There's a permanent state of massive bureaucracies that do whatever they want and set up deliberate leaks to attack the president. This is what the Deep State does. They create a lie, spread a lie, fail to check the lie, and then deny they were behind the lie."
This certainly does sound like the famous Trump dossier written by Christopher Steele hired  by Fusion GPS which was funded by the Clinton Campaign, DNC, and Obama for America. The dossier spreads fake claims on Trump, none of which have been verified why any sources to be true. Yet Robert Mueller of the FBI is investigating Russian collusion based on this dossier. The American people are outraged and demanding an investigation on Hillary Clinton and others for the recent truths that have come to light about real Russian collusion through the sale of Uranium One and millions funneled into the Clinton Foundation. President Trump tweeted out his outrage in a tweet storm.
Never seen such Republican ANGER & UNITY as I have concerning the lack of investigation on Clinton made Fake Dossier (now $12,000,000?),….

— Donald J. Trump (@realDonaldTrump) October 29, 2017
…the Uranium to Russia deal, the 33,000 plus deleted Emails, the Comey fix and so much more. Instead they look at phony Trump/Russia,….

— Donald J. Trump (@realDonaldTrump) October 29, 2017
…"collusion," which doesn't exist. The Dems are using this terrible (and bad for our country) Witch Hunt for evil politics, but the R's…

— Donald J. Trump (@realDonaldTrump) October 29, 2017
…are now fighting back like never before. There is so much GUILT by Democrats/Clinton, and now the facts are pouring out. DO SOMETHING!

— Donald J. Trump (@realDonaldTrump) October 29, 2017
All of this "Russia" talk right when the Republicans are making their big push for historic Tax Cuts & Reform. Is this coincidental? NOT!

— Donald J. Trump (@realDonaldTrump) October 29, 2017
Lastly, Klein's book promises "The scandal you don't yet know about: why Hillary Clinton could still be facing investigation by the FBI and prosecution by the Justice Department." This makes the book very promising as the American people want to see Hillary pay for all of her crimes.
"In America, you are entitled to your own opinion," Klein writes. "But you are not entitled to overthrow the democratically elected president of the United States and inflict irreparable damage on our country. That, however, is what Donald Trump's enemies on the Left and Right are doing. Through a variety of underhanded tactics—lies, leaks, obstruction, and violence—they are working to delegitimize President Trump and drive him from office before he can drain the swamp and take away their power."
I say drain the swamp of all it's vile swamp creatures no matter what party they call home, they need to go!